Main technics
1. Equipments outside dimension:38000mm × 3600mm × 3300mm 
2. Computer control system:whole machine adopts industrial computer,PLC frequency control
3. Total power(include heat power):about 30kw
4. Working speed:1000~4000mm/min (frequency control)
5. EPS board density:>18KG/mmm 
6. Applied material:1000~1200mm × (0.5~0.6mm )EPS and PU
7. Power source:380V/50-60Hz
8. Finished board thickness:50-250mm
9. Annual production: 600,000㎡
10. Production weight:15T
Work flow

PRO-sandwich panel production line adopts advanced workmanship which is built through gas,electricity and mechanical, specialist for sandwich panel production. The variable speed controlled by stepless speed alters, can compress the corrugated sandwich panel at the same time. This production line is consisted of feeding device, formation device,combining device( roll forming, gluing, heating, combining, edge curving, slotting,edge treating and pneumatic /auto cutting) and has been widely used for shops,warehouses and walls.
Applied profile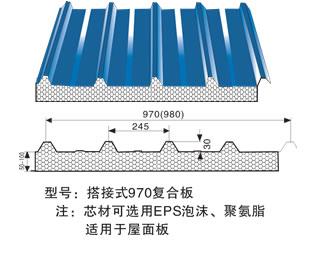 1.Wall board ,EPS"H"board(1000-1200mm)
2.Concealed wall board, EPS match-board (950-1150mm)
3.Roof board, EPS lapping type 980 corrugated sandwich panel(980 three peaks)
Main configuration
1. Decoiler and core shaft
Decoiling locations:3 pieces;core shaft:4 pieces
Applied inside diameter:500mm,
Width:≤1200mm
Outside diameter:≤1300mm
Load bearing:≤5T
2. Roll forming machine dimension:9500mmx1400mm(LxW),motor:2.2kw
3. Main machine:12000mmx2400mm(LxW),motor:2.2kw
4. Polyurethane 2 components , glue mixing besmear brushing device
5. Cutting device:cutting device is moved lengthways,band saw blade is moved Laterally.Cutting device adopts blade saw of single face,it has band saw expanding device,cutting device is equipped with sheet compaction device(pneumatic).Lengthways & Lateral movement of the cutting device has limit device.This machine adopts φ255 alloy saw blade,cutting speed is about 1230r/min.
6. Transmission rack:Rack without power:2 groups,dimension:3000mmx1210mm
7. Electrical control system:PLC computer control
Yingkou Professional Roll Forming Machine Co., Ltd is a professional manufacturer and supplier of sandwich panel forming machines in China. In addition to sandwich panel roll forming machines, we also produce flat sheet forming machine, double sheet forming machine, pipe bending machine, shearing machine, glazed tile forming machine, etc. Our products have been exported to Mexico, India, Russia, Ukraine, Slovakia, Turkey, Romania, Iraq, Colombia, Albania, Mongolia, Argentina, Brazil, Peru, Guatemala, etc.