Main Technical specification
1.Rolling material: 2-3mm thickness, including 5 sets of common moulds
2.Working speed : 8-10 M/min
3.Step of rollers : 13 steps
4.Main motor power : 11 KW
5.Hydraulic station motor power : 7.5 KW
6.Material of roller : CR12
7.Material of main shaft : 45# forged steel, quenching and tempering
8.Spindle Diameter : ¢85 mm
9.Wallboard thickness : 20mm
10.Chain : double-row 20A
11.Hydraulic station pressure : 10-12MPa
12.Material of cutting blade : Cr12, quenched.
13.Seven rollers as flattening, Two rollers as pinching
14.Electric control system: whole machine adopts PLC (Panasonic) frequency control, Cut-to-length error≤±3mm
Equipment configuration
Feeding device , transmission, main machine and forming roller (including guide table), cutting (after roll forming) device, hydraulic system, electric control system, run out table, etc. Main rack of the machine is processed on the planer type milling machine
Technological process figure

Production process
Manually de-coiling →Guiding & Feeding & Correcting→ Roll forming → Cutting after roll forming → Output product.
Profile (with 5 sets of moulds)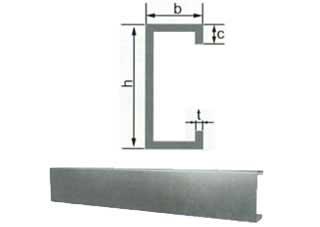 1.h=100mm,b=50mm,c=15mm,coil width=210mm
2.h=150mm,b=50/60mm,c=20mm,coil width=270/290mm
3.h=200mm,b=65/70mm,c=20mm,coil width=350/360mm
4.h=250mm,b=70/80mm,c=20mm,coil width=410/430mm
5.h=300mm,b=70/80mm,c=20mm,coil width=460/480mm
Feature and Usage
1. All the rollers are forged from the high quality structural steel and are processed intensely. The surfaces of the rollers are plated with hard chromium, which lengthens the operating life of rollers.
2. The computer controls the length, punching and counting.
3. There are the flattening rollers at the front end of the machine, which are used for flattening the strip steel with poor flatness. After flattening, the product is smoothing and flattening and conforms to the standard, which increases the economic benefit.
4. The C-shaped purling formed by this machine have excellent anti-bending property and are easy to install.
5. They are widely used as the supporter of roof and wall in large-scale and mid-scale construction, such as factory, warehouse, garage, gymnasium, exhibition center, cinema, theatre, garden, etc.
As a professional manufacturer and supplier of steel drum production line, c shape purlin forming machine in China, Yingkou PRO C shaped purlin forming machine Co. Ltd mainly offers steel drum production line, arch sheet equipment (PRO-120 arch sheet forming machine, PRO-240 arch sheet forming machine), arch sheet project, PU spray and perfusion machine (polyurethane foam spraying machine, high-pressure polyurethane spray and perfusion machine), roll forming machine (such as glazed tile forming machine, flat sheet forming machine, etc), colored steel coil, and colored steel coil, etc. Located near both Bohai Sea and Dalian Port, we enjoy convenient traffic. With high quality and affordable price, we have established a good reputation among clients in many countries, such as Mexico, India, Russia, Ukraine, Slovakia, Turkey, Romania, Iraq, Colombia, Albania, Mongolia, Argentina, Brazil, Peru, and Guatemala, etc. For more guides of c shape purlin roll forming machine, please feel free to contact us.