Front Section Production Line Front section drum making line including: Decoiler & Hydraulic Supporter, Hydraulic Up-Coiling Device, Flattening Rectifying Deviation Device, Cutting Machine. Steel sheet coils made to steel sheet suitable to drum size by decoiler, flattening, sizing and cutting. Be ready for middle section production.



Middle Section Production Line Middle section steel barrel production line including: circle-rolling machine, spot welding machine, seam welding machine, edging machine, beading machine(here we have two types for your reference: edging machine and beading machine or edging & beading machine), corrugation machine, edge-curling machine and leakage checking machine. Steel sheet be made into a complete steel drum through this part.



Back Section Production Line Degreasing & Phosphorization Room, Washing & Drying Room, Painting Room, Drying Line after Painting and Cooling Equipment are main equipment of back section steel drum making line.

Here are the details of medium-speed steel drum production line for your reference. Please contact us by call or email if you need low-speed or high-speed steel drum production line. We also can make suitable processing plans according to your different output and investment scale. Welcome to contact us and also glad to give your best reply.

1.Decoiler & Hydraulic Supporter

Short introduction: Cantilever uncoiled, controlled by PL
Main technics:
A) Uncoiling width: 916-1320mm
B) Plate thickness: 0.6-1.2mm
C) Motor power: 5.0KW
D) Uncoiled capacity: 10t
E)Inside diameter: ¢470-520mm, Outside diameter: ≤¢1200
F) Machine size: 3900x1500x1940(mm), total weight: 5T

2.Hydraulic Up-Coiler Device

Short introduction: Mainly 2 parts.
A) Up-Coiling Support Platform is for storing steel coil and facilitates Material Feed Trolley for delivering material.
B) Material Feed Trolley is used for carry steel coil.. It is operated with hydraulic system to push cylinder for
Reciprocating linear movement and gear box to deliver steel coil in parallel to the center of uncoiling unit so as to assure the fixing.

3.Flattening Rectifying Deviation Device

Short introduction rollers working, servo automatic sizing, worm and gear adjust the leveled plate thickness.
Function: The clearances of up and down rollers can be adjusted by the upper hand-wheel while figure can be shown by dial indicator. The operation linear speed is adjusted step-less. It can be controlled by the signal of mid-bridge for high and low speed change.
Main techniques:
A) Plate width: 916-1320(mm)
B) Plate thickness: 0.6-1.2(mm)

4.Cutting Machine

Function: Cut the leveled steel plate into drum body.
Main techniques:
A) Plate width:≤1500mm
B) Plate thickness:≤3mm
C) Motor power: 3.0KW
D) Cutting ability:≤20 times/min
E) Machine size: 1800x950x1500(mm), total weight: 3T

5.Circle Rolling Machine

Short introduction:3 rollers working.
Main technics:
A) Rolled plated width:≤1100mm
B) Plate thickness: 0.6-1.2(mm)
C) Circle diameter:≤570mm
D) Motor power:1.5KW
E) Machine size: 2200x750x1300(mm), total weight: 1.5T

6.Spot Welding Machine

Main technics:
A) Welding Machine capacity:75KVA
B) Plate thickness: ≤1.5mm
C) Drum height: ≤1000mm
D) Working speed:3 pcs/min

7.Seaming Welding Machine

Main Technics:
A) Welding Machine capacity:150KVA
B) Plate thickness: ≤1.5mm
C) Drum height: ≤1000mm
D) Working speed:3 pcs/min

8.Edging&Beading Machine

Short introduction:controlled by PLC,hydraulic drive
Main technics:
A) Beading height:≤14mm
B) Drum height:894-905(mm)
C) Hydraulic system pressure:8Mpa
D) Air pressure:0.1Mpa
E) Machine size:3700x700x1600(mm),Total weight: 5T

9.Edge machine

Short introduction: Controlled by PLC,hydraulic drive,equipped with linear rolling guide.
Main technics:
A) Edging height: 18.5mm
B) Drum height: 894-905mm
C) Hydraulic system pressure:8Mpa
D) Air pressure:0.1Mpa
E) Machine size: 3440x830x1700(mm)
F) Total weight: 5T

10.Beading machine

Short introduction: controlled by PLC,hydraulic drive,equipped with linear rolling guide,speed control value control the box feeding.
Main technics :
A) Beading height:≤14mm
B) Drum height: 894-905mm
C) Hydraulic system pressure:8Mpa
D) Air pressure:0.1Mpa
E) Machine size: 3700x700x1600(mm)
F) Total weight: 5T

11.Corrugation (W rib) Machine

Short introduction:controlled by PLC,hydraulic drive
Main technics:
A) Corrugating height:≤3mm
B) W rib height:≤9mm
C) Drum height:884-895(mm)
D) W rib space:280mm
E) Motor power:11KW
F) Machine size:4500x650x2100(mm),Total weight: 7T
Hydraulic station:
A) Machine size:1800x860x1700(mm)
B) Total weight: 1T
C) Motor power: 7.5KW

12.Hydraulic Edge-curling Machine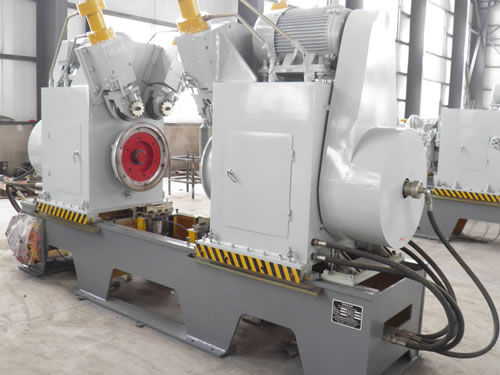 Short introduction:controlled by PLC,hydraulic drive,7 layers edge curling.
Main technics:
A) Drum height:886-897(mm)
B) Motor power:45KW
C) Machine size:4800x1300x2200(mm),Total weight: 13T
Hydraulic station:
A) Machine size:1800x860x1700(mm)
B) Total weight: 1T
C) Motor power: 7.5KW

13.Mechanical Edge-curling Machine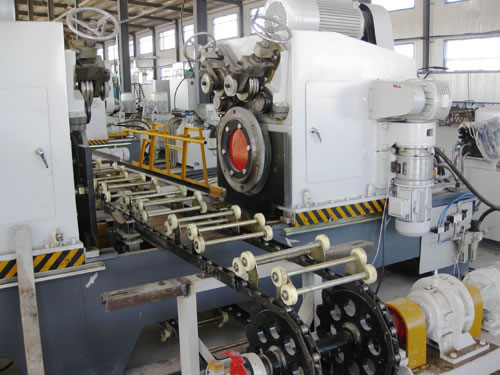 Short introduction:controlled by PLC,hydraulic drive,7 layers edge curling.
Main technics:
A) Drum height:886-897(mm)
B) Motor power:45KW
C) Machine size:4800x1300x2200(mm),Total weight: 13T
Hydraulic station:
A)Machine size:1800x860x1700(mm)
B)Total weight: 1T
C)Motor power: 7.5KW

14.Leakage Checking Machine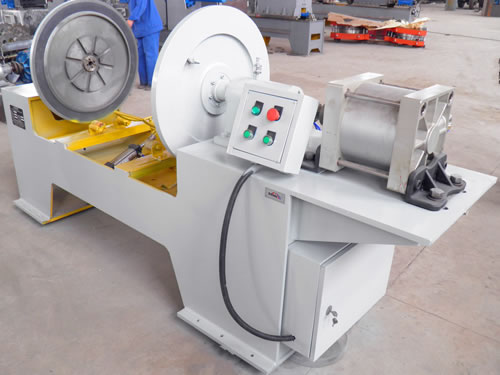 Short introduction:Manual/automatic control,pneuma lock.
Main technics:
A) Checking drum diameter:560-570(mm)
B) Drum height:886-897(mm)
C) Pressure:0.03Mpa
D) Machine size:2530x700x1100(mm),Total weight: 2T

15.Degreasing & Phosphorization Room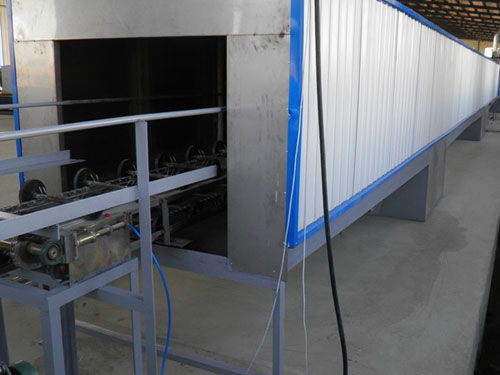 Short introduction: This part is used to transport the drums,controlled by PLC, adopts spraying
Device to automatic clean the coil, phosphorize and washing the grease on the drums.The conveyor device adopts superior steel; inwalls are made of 1mm steel plate.
Main technics:
A) Machine size: 36000x2110x2060(mm)
B) Total weight: 30T

16.Washing & Drying Room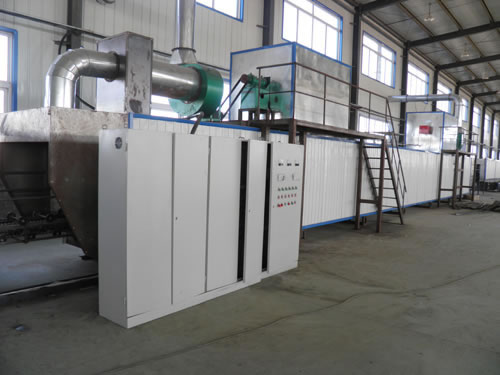 Short introduction: Drying the water on the surface of the drum, controlled by PLC.The whole machine adopts fuel heating devices. Fan is installed on the top of the room, so that hot and cycling wind can be produced to speed up the drying.
Main technics:
A) Motor power:25KW
B) Machine size: 20000x1920x3600(mm)
C) Total weight: 25T

17.Painting Room (double colors)

Function: The conveyor device is controlled by PLC, rotating table make the drums closely,
Painting system paint the drums in & outside with the spray gun. One color or various can be alternative. Mode of water-curtain spraying dispels sprayingsmoke.Nozzle adopts Nordson Brand; Painting equipment is made of Chang Jiang.
Main technics:
Motor power: 55KW
Machine size: 7400x4990x3600(mm)
Total weight: 15T

18.Drying Line after Painting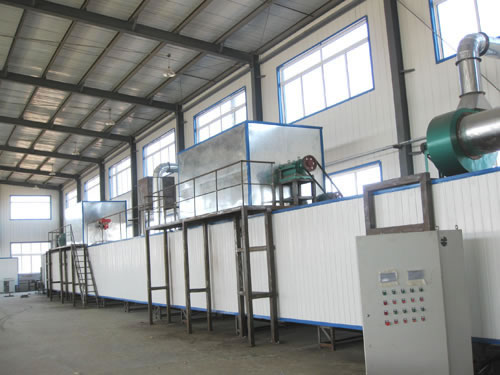 Function: The conveyor device is controlled by PLC, adopts fuel heating inwall of the room is equipped with heating tubes. Fan is installed on the top of the room, so that dry the paint.
Main technics:
A) Motor power: 35KW
B) Machine size: 36000x2100x4300(mm)
C) Total weight: 30T

19.Cooling Equipment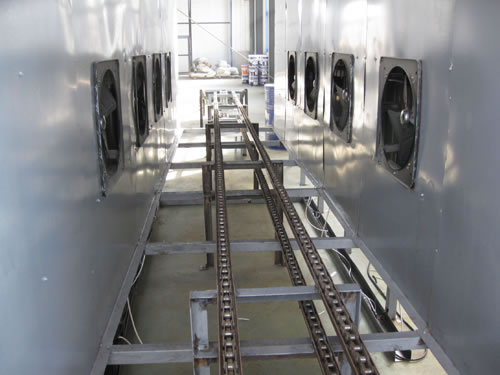 Function: Degrease the temperature of finished drum on the surface, after painting & Drying Room.
Main technics:
A) Motor power: 15KW
B) Machine size:5000x2100x4300(mm)
C) Total weight: 3T

20.Mould for Injection Mouth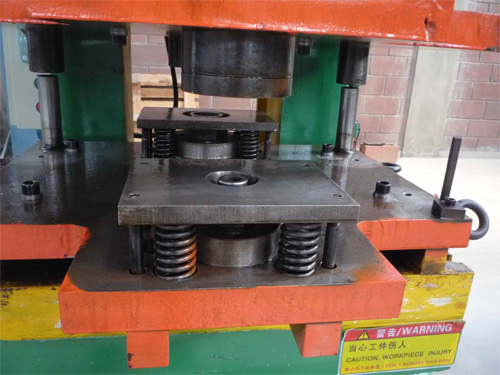 Short introduction: Equipped with one set of 63T pressing machine
Double punching mould: punch oil filler and breathable mouth of the bottom cover.
Double locking mould: lock oil filler and breathable mouth of the bottom cover.
Size of Top Mould Plate: 640×570×40(mm)
Size of Bottom Mould Plate: 640×570×40(mm)

21.Mould for Top & Bottom Cover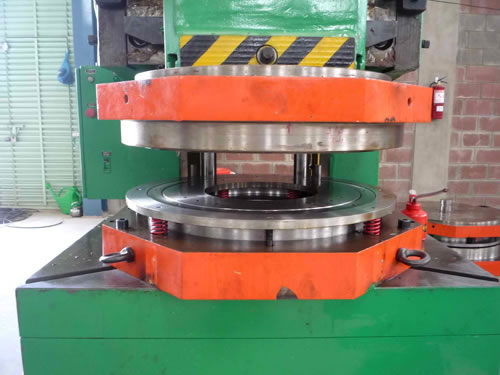 Short introduction: Equipped with two sets of 160T pressing machines
Function: Punching the bottom cover
Main technics:
A) Motor power: 18.5KW
B) Working ability:5-26 pcs/min
C) Machine size:Size of Top Mould Plate:
Size of Top Mould Plate: 880×820×106(mm)
Size of Bottom Mould Plate: 880×820×96(mm)
total weight: 14.5T

22.160T pressing machine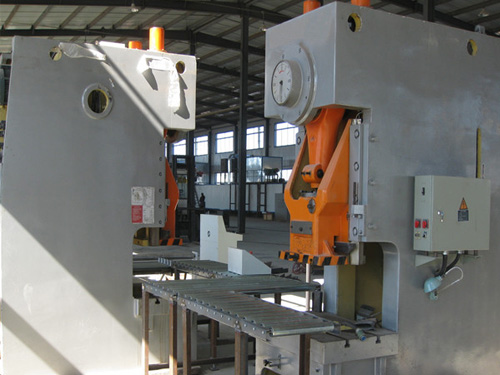 Main techniques:
Dimension(L×W×H): 1420×2200×3300mm
Nominal pressure: 160T
Max working pressure: 28Mpa
Motor power: 15KW

23.63T pressing machine: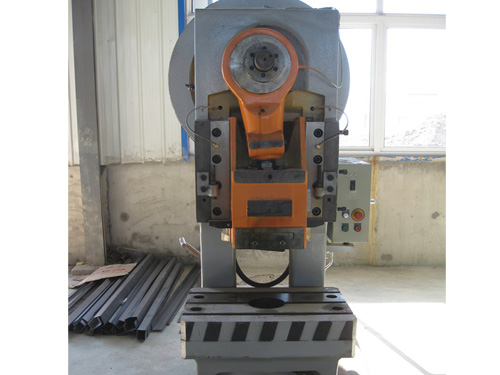 Main techniques:
Dimension(L×W×H): 1100×1430×2350mm
Nominal pressure: 63T
Max working pressure: 16Mpa
Motor power: 4.8KW

24.Pre-Curling & Gluing Machine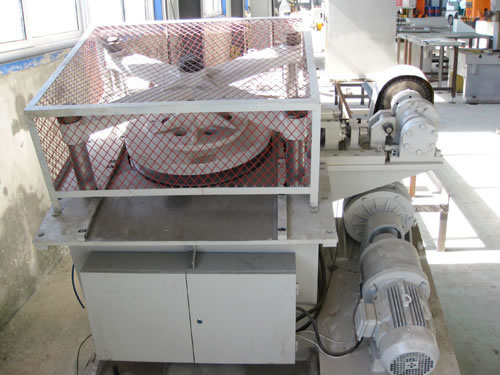 Short introduction: Pre-coiling machine for the bottom cover, cylinder push the cam to work, automatic glue- spaying system.It has advantages of safety,stablity, smooth edging.
Main technics:
A) Machine size: 1600x1400x1350(mm)
B) Total weight: 4.5T